---
Workshop Information
Guidance for the Use of Masks (Per the California Department of Public Health as of February 16, 2022):
All workshop particpants must have an account on our website to register for a workshop. SDWS Members should log in to their account prior to registering. If you are not a member and do not have an account, please click HERE to create a free account.
Premier & Weekend Workshop prices are discounted for SDWS Members. To receive the discounted price, please log in to your account before registering. If you are not a member or your membership has expired and would like to receive the discounted price, click "Membership" in the main menu to renew your membership or join SDWS prior to signing up.
Please contact our workshops registrar at registrar@sdws.org or the workshops director at workshops@sdws.org with any questions.
In-Gallery Workshops: All in-gallery workshops are held in our beautifully light-filled education center inside the San Diego Watercolor Gallery in The ARTS District of Liberty Station. (Location)
ZOOM Workshops: Virtual workshops will be conducted using Zoom. They will include a combination of live painting demo(s), interactive communication with the instructor, and individual painting time - all from the convenience of your home / studio.
Click HERE for Virtual Workshop Technology Requirements
Click HERE for Workshop Refund Policy
Click HERE for Nearby Hotel Accomodations
---
Premier Workshops
Premier Workshops are typically four days and take place during the week. They are taught by nationally and internationally renowned artists. Workshops are open to artist of all levels.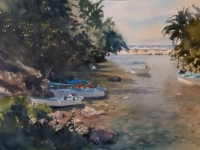 Beyond Technique, Finding Individual Expression - LIVE GALLERY WORKSHOP
Instructor: Frank Eber
The workshop will:
Continue in the tradition of the 20th Century California Barbizon movement ("intimate works, painted with a limited palette; softly expressive, suggestive rather than detailed")
Focus on emotional responses to nature
Encourage the individual artist's expression while balancing the forces at play in creation of a painting.
Topics will include design and composition, color and lighting, positives and negatives, simplification of shape, and atmospheric effects. The techniques you will learn in Frank's workshop transcend the watercolor medium.
Small class settings only. Please sign up early!
All skill Levels Welcome
Non Members Fee: $475.00 Members Fee: $450.00
Date: Monday, November 14, 2022 - Thursday, November 17, 2022
Time: 9:00 AM-3:30 PM

Login and sign up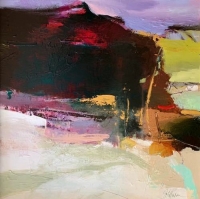 Paint Yourself Free - LIVE GALLERY WORKSHOP
Instructor: Joan Fullerton
Join us for inspiring demonstrations, lectures, encouragement and practice. You'll learn how to coax hints of reality from an abstract background, how to control values and colors for emotional emphasis, and how to suggest rather than delineate. You'll explore working intuitively, responding to what shows up, working in a series, mixing and utilizing neutrals for softer, more ethereal abstracts.
She will address attitudes of confidence, procrastination, vulnerability, curiosity, courage, play, inspiration, intuition, your mean critic, metaphor, symbolic elements, competition, marketing, your belief systems, finding balance, and more!
Non Members Fee: $550.00 Members Fee: $525.00
Date: Monday, January 16, 2023 - Thursday, January 19, 2023
Time: 9:00 AM-3:30 PM


Login and sign up